Sharing Jesus in a Buddhist country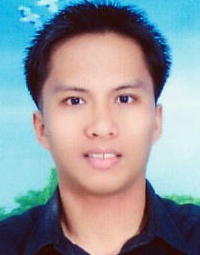 "Ma'am, please send more ministers to Thailand," wrote Alejandro Cardiente, a Filipino Theology graduate under Adopt a Minister International who now works in Thailand. "The Mien and the Thai people need to hear about Jesus or they'll just die without knowing the plan of Redemption."
adopt a minister
Immediately, I sent out a prayer to God and e-mails to the unemployed ministerial graduates in the Philippines. "Who wants to go to Thailand? But please remember that the work there is very hard. You will have to learn the Thai and the Mien languages and you will share Jesus with people who have never heard about Jesus before."
I received e-mails from around a dozen applicants who expressed their desire to work in Thailand. But who should go? I only have funds for one minister and I had to put together two sponsors for one minister because it costs more to live in Thailand than in the Philippines.
Goldie Rubino, from day one showed great interest; he assumed right away that I was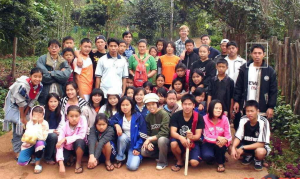 choosing him. His emails came every other day and with great conviction.
Two months later, he was on his way to Thailand to join Alejandro Cardiente and Renato Villareal.
Goldie Rubino is sponsored by Richard & Beverly Rawson of Ooltewah, TN and Al and Pansy Gardner of Lehigh Acres, FL.
A beautiful country and a beautiful people
By Alejandro Cardiente
The Thai and Mien people are very kind, helpful and beautiful people. We feel at home here in Changmai.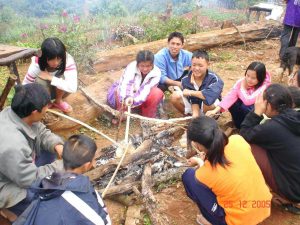 We just finished the Youth Camping….and we praise God for very successful activities that enriched and spiritualized the students. As a result, 3 students were baptized last Sabbath.
Last Friday night, Sir Brian led the ceremony of burning all familiar objects related to "spirit" worship of one family. Jioun's family decided to accept Jesus but we decided not to baptize the couple because we want them to have a firm foundation in Jesus. We felt the Holy Spirit impressed us to wait for the right time because of the previous sad experiences that many just want to become an Adventist for personal advantages.
Please pray as we continually minister to them. Anyway, their son was baptized last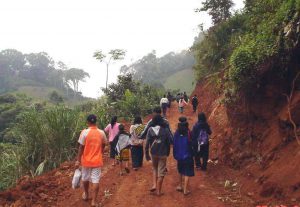 Sabbath since the son is diligent and active enough to participate, however, we believe that the burning of all objects was a starting point of their conversion and they are now participating in all church programs and receiving Bible study.
Our major camping activities included house-to-house worship, helping the village get cleaned up. We also went hiking, and had some outdoor fun, singing and having skits besides our routine morning-noon-evening worship and revival meeting every night…
Thank God the students were so refreshed and asked for another Mien camping.
Alejandro Cardiente is a Filipino ministerial graduate presently working in Thailand under Adopt a Minister.
GOD did it AGAIN!
By Renato C. Villareal
It was a beautiful Sunday morning on December 26, 2004, when the tsunami welcomed the coming New Year. In a blink of an eye everything had turned gray and had been destroyed, leaving a horrible mark in the minds of millions of people, especially those who lost loved ones.
A week after the tremor, a Buddhist lady came and approached me at Bangkok Chinese SDA Church to study English, and at the same time, the Bible. In our conversation, she asked me a very simple yet quite interesting question.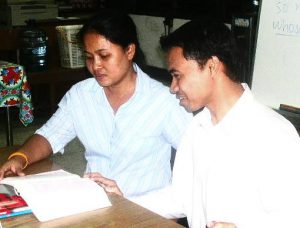 "Ajarn, (meaning teacher) tsunami is one of those signs of Jesus' second coming, right?" She asked. I was astonished and wondered how a Buddhist person could know about Christ's second coming.
But, I didn't answer her question immediately. Instead, I asked her, "How did you know about the second coming of Jesus? And where did you hear about Him?"
She replied, "I learned from other Christian missionary and from the Bible I am reading now. But I can't understand the meaning of some texts in the Bible and I'm confused about some words in it. The words from Bible are opposite to the lesson of other missionary who taught me."
As a missionary listening to her complaints, I imagined her, like a thirsty blackbird wearying and wondering in the desert. She doesn't know where to go and what to do. She's beginning to learn about Jesus, and I'm afraid Satan might mislead her. She needs to know the truth; she needs enlightenment to the little truth she now knows, to light up her way to the feet of JESUS.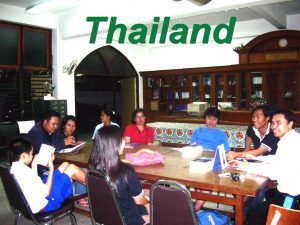 I asked her how she found the Chinese SDA Church. One night, she said, "I prayed to God that He lead me to the person who could teach me the truth about the Bible. The following morning a man handed me a small piece of paper advertising and inviting people to learn English language through stories from the Bible."
In my mind I asked myself, who did it? I didn't go out that day to distribute any leaflets. Then for a moment it was clear. It was not just a mere co-incidence. It was a proof that God is with us all the time.
Today, Pim is regularly coming to the church thrice a week not to learn English language anymore but the WORD of GOD. She's receiving series of Bible studies and attending our vesper program on Friday evening and Sabbath services.
"Go then, to all peoples everywhere and make them my disciples; baptize them in the name of the Father, the Son and the Holy Spirit, and teach them to obey everything I have commanded you. And I will be with you always, even to the end of the age." Matt. 28:10-21
Renato C. Villareal is a Filipino ministerial graduate presently working in Thailand under Adopt a Minister International and sponsored by Edith Perry of Scotland.