I am Herminio Q. Depon, an AB Theology graduate last March 2005 of South Philippine Adventist College. At the present time, I am assisting the Revelation Seminar held at Paitan SDA church and conducted by Pastor Rene Quinto with Pastors:.Romano, Erguiza, and Carresosa.
Upon knowing about your kindness in helping us, newly graduated ministerial students, I can't help but thank God for not forsaking us and giving us a chance to work for Him. Our God has called me to work for Him in these last days, for He is coming very soon. Ma'am, may I apply to the Adopt a Minister Program, wishing for a sponsor who would support my young ministry. The conferences here do not have the funds to employ ministerial graduates and I would really like to give my whole-hearted service for the Lord.
Thank you so much for giving me a chance to be a part of your program. Praying and hoping to hear from you soon. ~ Herminio Depon
————————————————————————————————————
adopt a minister Christian Greeting! I'm Daniel Molleda, a graduate of Theology. I
was personally referred by Pastor Ephraim Parulan, our Ministerial Secretary at Central Luzon Conference.
He gave me your name and your E-mail address regarding your "Adopt a Minister Program." I want to serve God as a minister to His people, and I am in line for the pre-intern program of Central Luzon Conference. At present, I'm a volunteer layman in a local church because the conference does not have any funds to employ graduates. Would you please help me find a sponsor and adopt me as one of your ministers?
Ma'am, I appreciate your kindness towards us who are willing to be part in the finishing of the work of the Lord here on earth. I will be praying that the Holy Spirit would touch more hearts so all of us, unemployed ministerial graduates, will be able to work in the Lord's vineyard through the Adopt a Minister Program. May our God expand your worldwide ministry so every aspiring minister who is willing to work would be used fully by Him. I hope and pray that you will give a positive response to my appeal.
Thank you and God bless us all. ~ Daniel P. Molleda
————————————————————————————————————-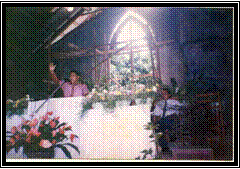 I am Celso Quinimon, married with 2 children: 3 years and the latest, only 1 month. I am very happy to know that you care about us. I hope I can now convince my wife to come home if ever I'd qualify for adoption. My wife, an Education graduate, is now planning to apply as a domestic helper in Lebanon. She is now in Manila processing her travel papers. Pastors: Nelson Paulo and Edwin C. Gulfan, of Western Mindanao Conference advised me to apply in the Adopt a Minister Program.

I've been working as a volunteer for a while. At the present time, I found a temporary job with a stipend (of P3,500.oo) ($60) per month assisting Pastor Mamerto Guingguing in Ozamiz City Central Church. I take care of the church program, Bible studies, visitations, and other church-related work. My status is temporary, as funds are available. Last Friday I was told to apply in Clarin, Misamis Occidental because there are no more funds for my work by the end of this month.


Last year my wife was privileged to work as a substitute teacher. We thought she would be hired this year, but she was not. She gave birth last month and since life is so difficult for us, she flew to Manila against our will because she wanted to help alleviate our hardship. Plus, our motorcycle was repossessed by the company because we cannot pay the monthly notes. Sad to say but my wife is now in Manila. But if I can be adopted, I could convince her to come home because our baby needs her and we want to be together as a family.
Ma'am, please, may I apply in your Adopt-a-Minister Program. May I have your reply soon so I could convince my wife to come home.
Thanks for your ministry and I join the others in praying for its great success and more support.
~ Celso Quinimon
————————————————————————————————————

Christian Greetings!
To work in God's field is the motivation that prompted me to e-mail to you.
I would like to apply as a lay worker in your program, ADOPT A MINISTER INTERNATIONAL. I am willing to be in GOD's service to bring the good news of salvation to everyone.
I am Felix L. Ombayan, Jr., 23 years old, with a Bachelor of Arts degree, major in Theology. I graduated last March 20 of this year at SOUTH PHILIPPINE ADVENTIST COLLEGE.
I can't support myself without financial help, while I'm waiting for my internship in our local conference. I have learned about this program, "Adopt a Minister."
I finished my one-year term as Ministerial Secretary during my college time. I now work as a volunteer layman here in my place at Kapatagan, Laak Compostela Valley Province.
I would like to tell everyone about Jesus to those who haven't heard yet so He could come.
Please! Help me find a sponsor who could pay my salary while I serve the Lord. ~ Felix L. Ombayan
—————————————————————————————————————
Christian Greeting:


I'm Jehiel S. Aguarin, 29-years-old, ABHPR, and Theology graduate last June 2, 2004 from our school in AUP at Putting kahoy, Cavite.
I'm willing to give my God-given talents for His work. For this reason, it is my deepest aspiration to be a worker of God, but in my case I am waiting for my internship in Central Luzon Conference.
But the sad part, Ma'am, there are no funds for us, ministers, and we were told we may have to wait for over five years before we could be employed. I have volunteered my services as a minister but I need money for food and shelter. You are my only hope through God's great help.
I believed that if we just work hand in hand, we could do a whole lot in God's work as we wait for His coming. Thank you very much for your godly support for God's work.
May God bless your family and your work. I'll be waiting for your response. ~ Jehiel S. Aguarin
———————————————————————————

First of all, please allow me to greet you a pleasant day, together with your family. I got your email address from Pastor Solomon Mongaya, the president of our mission. NEMM- Northeastern Mindanao Mission.
To introduce myself, I'm Fritz Baring Semacio, married with 3 children. My wife is Elizabeth Mosquito Balasico. I graduated from Mountain View College last 2002 with a degree of Bachelor of Arts in Theology. I was a working student for almost 9 years because my parents weren't able to support me financially. My mother and father had since been converted to Adventism. They both work as laymen with small stipends from their assigned churches. It's very difficult to support our daily living without a salary but the enjoyment and the happiness to serve God's work is so great.
In God's service, I've experienced a lot. I joined a missionary group before our mission called me to work. But unfortunately, there is no budget at all and they decided to lay off workers and I'm one of them.
As I pray to the Lord, I believe that this "Adopt a Minister" program is the answer. I solicit your kind heart to accept and support me financially to be a part again in spreading the gospel. You know Ma'am, after I was 'let go,' I sometimes work in people's farms and get paid with produce for my family's daily sustenance.
But my goal in life is to serve the Lord through ministerial work because I love this work as God has commanded us. You know Ma'am, I have never applied in any secular work, but only in the work of the ministry.
I am praying and waiting for your soon response. Thank you so much! ~ Fritz Semacio
—————————————————————————————————
Greetings!!!


The commission given by Christ to all His followers: "Preach the gospel to the world," prompted and inspired me to take the ministry, for it is my greatest desire and commitment to be His servant until He comes.
I graduated with a Bachelor's degree in Theology from Central Philippine Adventist College on March 2004. The academic and field training of the school has equipped me with the ability to impart the knowledge and doctrines of Christ and to touch the lives of the people who do not yet know about Christ's love.
Thus, if given the opportunity, I will do my best to uphold the standards of Jesus Christ as a role model to the brethren and to the unbelievers as well.
After my graduation, I started to work as a lay pastor in Negros Occidental Conference. Besides preaching, I possess other talents such as: singing, counseling, teaching, playing the guitar, and computer. In my college life I've experience youth counseling, giving Bible studies and Revelation Seminars, chaplaincy, health gospel ministry, jail ministry, youth leadership, pastor as educator, and church pastor.
Presently, I'm working at Aguisan SDA Church as a lay pastor . I am thankful to God because this coming Sabbath there are many souls who are ready to accept Jesus Christ as their personal Savior.
My friends suggested that I ask help from you, therefore, I'm appealing to you to please accept me in your program. God knows my desire and willingness to be His servant. I am hard working and committed to the work of God, and willing to sacrifice for His sake.
May God Bless you all. ~ Ezekiel Alojepan
—————————————————————————————————————