The first batch of adopted ministers of Southern Mindanao Mission traveled by plane from General Santos City to Manila, then by boat to Romblon. The plane ride and the trip to Manila was a first for most of them. The group included: Romulo Tuballes, Elmer Romano, Carlito Arguisa, Nilson Peroy, Peter Talledo, Marlon Antonio, Michael Tamayo, Rustico Alpajando, Rodelio Siaotong, Joel Nacubuan, Jezreel Abella, Robert Guelos, Albert Abogado, Gerry Bacuna, Feliz Ombayan, and Rommel Clavecillas.
adopted ministers
They came a long w
ay to do evangelism in my hometown in Romblon. They fought homesickness, endured tough living conditions–sleeping on bamboo benches under an open nipa roof with the ocean waves lulling them to sleep. They used their knapsacks for pillows, except for Nilson Peroy who like Jacob in the Bible, used a rock for a pillow.
As they retired for the night after a long day of evangelism work, each one had his daily job description: dishwasher, cook or clean-up person.
They were grouped into three: 4 in Batiano, 7 in Bulwang (my birthplace) and 4 in Gabawan.
To save transportation money, they walked the 3 miles (one way) under the sweltering heat to their assigned areas, each with a parasol. Sometimes they traversed through the coconut groves. Often they walked by the seashore to shorten their journey, pulling their trousers up so as not to get wet as they pass through an inlet.
Though one day, the tide was high and Carlito Erguisa braved the current only to realize halfway, the water was up his c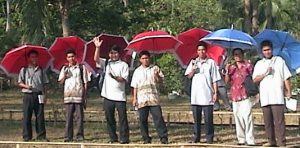 hest. The Bulwang group had a time climbing up the tall mountain everyday in search of folks who'd want to have Bible study. After almost a month of daily climbing, members of this group became fit and trim.
Many accepted Bible studies in the three areas. The people were quite hospitable. Many brethren offered the ministers lunch everyday. By the time they left Romblon, they chuckled, for many of them gained weight.
Asking us to go home….
Adopt a minister "We want to meet you, Mom and Dad! Please come home to the Philippines!" For several weeks, e-mails with these words came everyday from the adopted ministers.
The thought of seeing the ministers for the first time excited us, so J.R. and I decided to go home to the Philippines last month.
Pastor Reuben Villanueva and his wife, Dr. Shari Francisco Villanueva met us at the Manila International Airport On April 10. We headed to the Heritage Hotel.
The following afternoon, we met Ramil Villamor, one of the adoptees from Central Luzon Conference. Ramil accepted our invitation to go with us to Romblon for a few days.
Sixteen ministers from Southern Mindanao Mission were already in Romblon two weeks prior to our arrival.
reva moor
e with adopted ministers from Romblon From Manila, we took a ship to Romblon. After the shipped docked, we walked unto the pier, we saw the young ministers waving from a far distance. They held a huge banner with words to welcome us home. Then they sang many songs. We were overjoyed.
During the next few days we all got acquainted with each other. We watch them in their work. They were all quite talented in preaching and in singing. They told their heartrending stories. And their words of gratitude didn't stop.
We also met Ric Jason Fonte, one of the adopted ministers from Romblon Adventist Mission. Ric Jason joined us during our get-together in Halewood Inn.
After our first weekend in Romblon, Reuben and I went back to Manila by ship then flew to Mindanao for a few days while J.R. stayed in Romblon with Pastor Jessie Antonio keeping him company. In Mindanao, we handed groceries to families in a certain community. Four days later, Reuben and I flew back to Manila, then took the ship back to Romblon.
On the last week of the first group's agenda was a Happy Family Seminar with their leader, Romulo Tuballes giving the lectures. Each night the Batiano Church was packed. A total of 59 souls were baptized by Adopt a ministerthe first batch. Pastor Allan Castor, adopted minister in Batiano Church, helped coordinate the activities of the SMM adopted ministers.
Showing off their watches
On Sabbath morning, the SMM ministers were showing off the watches we gave them. Here they are!adopted ministers with watches
On their last two nights in Romblon, the SMM ministers stayed in Halewood Inn with us. They enjoyed the air-conditioned rooms, pillows and clean sheets–they say were fit for a king. Finally they no longer had to cook and wash dishes. Meals were eaten in the hotel restaurant.
When our stay ended in Romblon, we (including the ministers) all went back to Manila by ship.
A tearful but happy family reunion
Of the many adopted ministers from Southern Mindanao Mission, many were quite outgoing while a few adopted ministers from Southern Mindanao Missionwere unusually quiet. Of the silent group, Albert Abogado (whom everyone calls "Attorney") hardly spoke. A mild-mannered man with a sweet smile, we heard Albert only when asked to speak.
As we disembarked the following morning, there was an unusual stir down below outside of the ship. I saw a lot of hugging and crying, which I didn't understand. Then someone told me that Albert's mother, brothers and sister were down there, and they were seeing Albert for the first time after eight years.
"Mom Reva and Daddy J.R., this is my Mom, my brothers, sister," said Albert, "and this is my brother I have never seen." Albert placed his arms around his eight-year-old brother, and wiped tears from his eyes.
So we heard the story. The eldest of eleven children, Albert left his home in Isabela for Mountain View College in Mindanao right after his high school graduation. He worked his way through Theology school and graduated after 8 long years. A few years later, Albert got married. He hasn't been home in 8 years because he didn't have money for the trip.
"If not for "Adopt a Minster," this reunion would have not happened." I heard someone say.
As I watched Albert's family hug each other, I felt a great deal of happiness, knowing that my effort in finding funds for the ministers' trip had been all worthwhile. So right there we gave Albert funds to go home to Isabela so he could visit the rest of his family.
Two days later, there was a knock at our hotel door. Albert with his mother and another sister had come back from Isabela and wanted to talk with us.
"Mom Reva and Dad J.R., I'd like to tell you a story," Albert said. "When I was in high school, I had a dream. I dreamed that Jesus had come and I saw myself rising to meet Him in the air. But I noticed that I was the only one going up. My family was left down below." Albert was all choked up as he spoke. Then he wiped tears from his eyes and continued, "I don't want this to happen to my family. I want them to go to heaven with me. Would you please help my siblings go to Theology School? They want to be ministers just like me."
We had prayed for funds for Albert's two brothers and two sisters. They will be going to Theology School in Northern Luzon Adventist College.
The following morning, the SMM adopted ministers went on a grand tour of the Adventist University of the Philippines, AIIAS, 1000 Missionary Movement Place, and Southern Asia Pacific Division. They stayed at the Heritage Hotel while in Manila, went shopping at the mega mall, and rode a train one late afternoon.
Many were counting the days when they could go back home. Back to their families with wonderful experiences and presents. They took the long route home—by ship, which took 36 long hours. But they didn't mind, for after the long, tough journey, they'd see their loved ones again.
All healed like nothing happened.adopted ministers of West Visayan Conference
Leslie Aprentado, one of the adopted ministers of West Visayan Conference, passed by the Heritage Hotel to see us. Two years ago, Pastor Leslie almost lost a leg in a motorcycle accident. Praise God he is 100% healed and if you look at him, you'd never know that he went through such a tough ordeal.
The Palawan trip.
On April 27, J.R., Reuben and I flew to Puerto Princessa, Palawan. At the airport, 6 adopted ministers and the treasurer of Palawan Mission were waiting for us. We went straight to the Paradise Hotel, and then went to have lunch at a nearby restaurant. It was wonderful to be with the Palawan adopted ministers for the first time.
6 adopted ministers and the treasurer of Palawan Mission and reva moore
Back at the Paradise hotel, we thought of having the adopted ministers stay in our two rooms while we transferred to the Legend Hotel. The ministers were happy to have air-conditioned rooms for the next five nights.
JR moore husband of reva mooreThe following morning, Pastor Sol, president of Palawan Mission, invited us for lunch at the Badjao Seafront Restaurant built on 3-ft stilts above the water, and located in a mangrove-protected area in the city. Then later that afternoon, we went to see the Crocodile Farm built by the
Japanese. We were amazed at the hundreds of crocodiles, large and small in this place. Here's J.R. handling a small croc. Do you see the resemblance?
A beautiful wedding
Adopt a Minister RomeeWedding bells were ringing on May 1 in Puerto Princessa for Pastor Romee Lozada and Vanessa Francisco. Romee has been under Adopt a Minister for almost two years now. J.R. and I were the primary sponsors in the wedding.
Back to Manila second batch of adopted ministers from Southern Mindanao Mission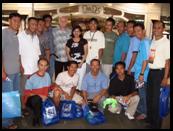 After 5 days in Palawan, we flew back to Manila and two days later, we met the second batch of adopted ministers from Southern Mindanao Mission. Besides Romulo Tuballes, there were William Galagnara, Benny Importante, Reynante Chavez, Charles Mutya, Joel Hubero, Alex Cordero, Frank Abadiez, Andres Dagum, Walter Padronia, Vladimer Tugade, Lilio Bornales, Eduardo Saranillo, Simeon Carresosa and Larry Lanistosa. We met them at the mega mall for lunch and what a delight to see all of them. It was a short visit but an enjoyable one. They left for Romblon the following day. After two weeks in Romblon, they baptized 19 souls.
Maam,may I see you?

Rey Maglipas of Central Luzon Conference called to see us. He came to the Heritage Hotel one afternoon, and we visited for a long time. Rey gave us good news: he was recently accepted as an intern in Central Luzon Conference.
Flying back home
A month later, our trip to the Philippines had come to a close. J.R. and I flew back to Louisiana with wonderful memories and experiences to last a lifetime. We knew our Heavenly Father was all smiles as He made all of these things possible.