Good day… I hope that you are in good health. As for me, I am still enjoying the gift of God's ministry.
Our work here my district is still on fire in spite of economic, and spiritual crisis. The association planned for a Revelation Seminar. The main target of the said seminar is to reach the elite people through nightly meetings. We hope and pray that by God's help and power, we will be able to bring more souls to Christ.
Thank you so much for "Adopt a Minister" for it brings hope to all of us—unemployed ministerial graduates. Many of us have left the ministry to find secular jobs with pay because we have to feed our families. When I heard about your program, I praised God, for finally He has heard our cries. I knew He would NEVER forsake us.
Ma'am, we are praying for the success of "Adopt a Minister" as we finish the work here in the Philippines so Jesus could come.
Please, Ma'am, find me a sponsor, for I would like to be under your program.
Lastly, I am soliciting your prayers to include our Revelation Seminar so that we can hasten the coming of God. Thank you for your support. More Power and God bless you all and hoping for a positive reply.
~ Henie Reyes
—————————————————————————————————————-
Christian greetings! To start with, I am Lonyr Jeff Serrano. I've heard about the ADOPT A MINISTER program from some of my friends.
About myself, I am a fresh graduate of MOUNTAIN VIEW COLLEGE. I worked my way through college for five years. I worked as a helper and a gardener in one of the faculties' homes. But to supply my basic needs, I offered services such as: umbrella and shoe repair to the teachers and students. I also repaired tires and did house work. But my main job was a tricycle driver within the campus. It was tough, but through
God's grace, I successfully finished Theology School.
I was an active member in many
IN-CAMPUS and OUT-CAMPUS programs of the school. I was also a student evangelist and pastor in churches around the campus. I was a deputy Director of the Master Guide Club (Pathfinder Club). I was a member of one of the official singing groups of the college. During summer, I joined the Student Association of Literature Evangelists (SALE). Presently, I am still a member of RESCUE 741 (An organization made to support the RED CROSS in the Philippines).
About my family background, I am the eldest among the five children
of Mr. and Mrs. Marlon Serrano. We live at Sultan Kudarat, one of the provinces in Mindanao. I speak
Hiligaynon, Cebuan and Karay-a dialect. I think it would not be hard for me to communicate with the people here in North Philippines, for I'm used to talking with students from Luzon while I was in the school.
It's my ambition and dream to be a pastor in our denomination. And if I have the chance, I would like to be in the organized work in this place. Madam, your help is so precious to me. May God be with you as you work for Him. Thank you for reading this letter.
~Lonyr Jeff Serrano
—————————————————————————————————————-
Dear Ma'am Reva,
May the grace and the love of our Lord Jesus Christ be upon you today.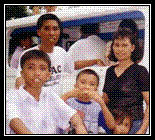 I am Dominador M. Tipdas, 38 years old, married, with three children. I was converted to the Seventh Day Adventist Church when I was 21-years-old. I grew up in the care of my grandmother because my parents were separated when I was just 6 years old. I have one older brother and many sisters. I'm the third from the eldest. After our mother left us, our father became sick and died on July, 1982. Amidst the hardships of life, our grandmother sent us to school, but unfortunately I was only in my 3rd year high school when she passed away.
I was baptized by Pastor Benonie Llanto. Eight months later, my loved one, Divina Verba, was also baptized by him. We both became literature evangelists since we are the only Adventists in each of our homes. In 1990 we got married and in 1993, I finished my high school education after having our eldest son. To go to college seemed impossible for me, but my older sister who was newly baptized at that time, volunteered to support me.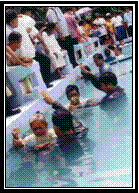 Later my wife and I did not hesitate to move to South Philippine Adventist College even though we've already three children and our youngest daughter was only 6 months old.
In college I was more than a self-supporting student, because my whole family was with me. I also sent my son to our Adventist school. After a year in college, I received a 50% scholarship from the Nelson Scholarship Program. It was a big help for me. And every summer, my whole family joined the student literature evangelist ministry to work for my scholarship until I graduated with AB in Theology last March 2003. In June that year, my wife started her Bachelor Of Elementary Education, and she is now in her third year in college. At present, I work as a volunteer layman here in Davao Mission.
Ma'am, please I would like to apply in your program so I could also support my family while I work for the Lord. Please let me hear some good news soon.
~Brother Dominador Tipdas
—————————————————————————————————————
Christian Greetings!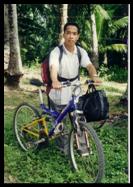 Ma'am Reva, may the abundant grace from our Heavenly Father be with you always. He has chosen you to lead His people and to support the furtherance of His work. Let me introduce myself. I am Alfredo Sumagang, 31-years-old, from Tubod, San Juan, and Siquijor Province, Philippines. I am one of the theology graduates from C.P.A.C., year 2002.
I have been working as District Layman at Siquijor District for two years and seven months. I was assigned in Milagrosa, Santa Catalina, Negros Oriental for six months as Global Missionary. I already received a Certificate of Participation of Healthy Life Style Seminar given by Central Philippine Union Conference in coordination with Department of Health, Region VII.
With my degree and additional work experiences, I would like to take this opportunity to apply to Adopt A Minister as one of your ministerial workers here in Negros Occidental. I am hoping that my simple talent will be a great help to the work. I am looking forward to hear from you. ~~Alfredo Sumagang
————————————————————————————————————–
Christian Greetings!!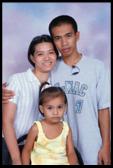 My name is Cart Gladden T. Aguillon, 28 years old, married. I graduated with a Degree of Bachelor of Arts Major in Theology last March 1999 at South Philippine Adventist College, Camanchiles, Digos City. I earned my Certificate in Professional Educational at Western Mindanao State University ESU-Bayog last March 2002.
Since my graduation in 1999, I have longed for a place in the organized work with very slim chances of getting in, and in six years time the waiting had seemed eternal. But I trust that God has always a work for willing graduates like me.
Lately, I have heard of the rich blessings your ministry has brought to many young pastors in the Philippines. My friend Bert Boter, the only recipient of your program in our Attached Field in Southwestern Mindanao, is now happily working with Batu Adventist church.
I would like to be one of your adopted children in this program. I'm one of the several graduates in our attached mission who needs your assistance. I look forward to a meaningful experience with your humble endeavor. I'm always praying for you and the whole program family. I have worked in various fields connected with the ministry. I have been a Student Literature Evangelist Leader, a Lay Church Pastor, and an executive assistant to the District Leader.
Thank you for your gracious consideration. Because of Calvary ~~ CART GLADDEN AGUILLON
————————————————————————————————————–
Christian greetings,

I'm Fortunato Notarion Jr. I'm the fourth child of Mr .and Mrs Fortunato Notarion Sr. It is my vision to join the rank of noble men to reach the un reached people and touch their hearts and lead them to Jesus.
My background in Adventist Education, my home training with my parents and my personal experiences with the Lord have given me inspiration to develop my talents for His work.
I graduated from Mountain View College, March 2003 as a self supporting student for seven years. During my stay in MVC, I joined many organizations and activities, which helped me prepare for actual work. I also endeavored to equip myself with knowledge, skills and activities that would make me an effective pastor someday.
Presently, I am working as a volunteer layman. I'm asking you to please support me financially as I work for our Lord. I always include you and your work in my prayers.~~FORTUNATO NOTARION
—————————————————————————————————————
Christian Greetings! How are you? I hope that you're fine and in the best of everything upon reading this letter. I also hope that you're enjoying life over there.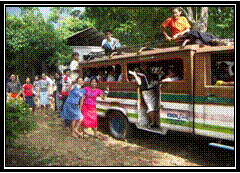 First and foremost, I will introduce myself to you. I'm Christopher V. Luaya, 28-years-old and a graduate from Central Philippine Adventist College with a BS degree in Theology last March 2004. Previously, I worked in Mailum, the mountain area of Ma-ao-Valladolid District under Pastor Herbert A. Bacolod. My work there had been so productive. Before I was moved, I conducted three Bible Seminars and introduced 47 souls to Jesus' feet. At the present time, I had just transferred to Bagroy where there is no church building. It's a big challenge to be here because Adventists here are looked down on. There are lots of Adventist members but no proper place for worship. We usually hold our Sabbath worship inside an unfinished house while the owner is in Manila. The owner may come back anytime then the church members will be looking again for a place to worship. This church is really a dying church if no one will nurture the present members. Last September 17, I again introduced 7 precious souls for baptism for the congregation of Bagroy. This makes 54 souls from July of last year.
I have a big mission in Bagroy. I promised myself not to depart from this place until there's a visible church building. But the problem here is the sponsorship for my allowance. Pastor Eliezer Patricio referred me to you and told me about your Adopt a Minister Program. Ma'am Reva, I wish to apply as one of your Adopt-A-Minister applicants. I hope that I will be having a 100% approval. Exciting things are happening here. As a result of my assignment in Mailum, I'm one of the organizers of the Friendship Club. This is an innovative ministry, which caters to non-Adventist youths to welcome the advent message. At present we more than 100 youth members, including non-Adventists. I'm now functioning as the Club Pastor and the Editor-in-Chief of the ECHO, the official newsletter of the Friendship Club. This time the Friendship Club has already reached Bagroy. The Negros Occidental Conference pastors and my district pastor are happy about the progress of this club.
May God bless you and your family circle. Please let me hear from you soon. ~ Christopher V. Luaya
—————————————————————————————————————-
Christian Greetings! I'm Ralph Latosa, an AB Theology graduate of Mountain View College. I was in Mountain View College for over 7 years as a working student. I graduated last 2001 without any financial aid coming from anyone and only through God's grace, I was able to make it. I have been working as a volunteer layman for over 3 years already. Presently, I'm here in one of the districts in Negros Occidental Conference, specifically in the district of Kabankalan. A great effort happened here in our district and with God's grace, there were 50 souls brought into the foot of the cross. Aside from that harvest, there are still lots of interests waiting to be given Bible Studies. But the mission doesn't have money to support me. In spite of that financial problem, I am still working here without any financial support coming from them. I'm doing this because of my commitment to our God. I am very willing to work but I know that my ministry in this place will not last if nobody will support me. So I would like to appeal to your kind heart to please support me in my ministry. Thank you! God bless you!!~ Ralph Latosa
———————————————————————————————————–
Christian Greetings!

God bless and more power to you and the Adopt a Minister Program. You might be surprised to get a letter from me, but Pastor Sol Mongaya, president of North-Eastern Mindanao Mission suggested that I write to you.
I'm Willy Salonga, 51 years old, and presently serving in Bulua SDA Church, Cagayan de Oro, City. I was voted by the NEMM EXECOM as one of the mission laymen, but had to tranfer to Cagayan de Oro after one of my sons drowned in Agusan River last May, 1992
Through the help of the Holy Spirit, I have had a good track record in soul winning. I have conducted many evangelistic efforts in North Eastern Mindanao Mission with over 50 souls baptized per year since 1987 until today.
Sir/Ma'am, I wish to apply to the Adopt a Minister Program so I could have a salary as I work for the Lord. My family needs financial support because my children are entering college. ~ Bro. Willy Salonga