Father Guillermo is a very intelligent man. He holds 6 degrees, one of them is Bachelor of law. During his studies, he received 78 awards (all gold medals) and many trophies. He was also the winner in every school debate in the entire Philippines. Then he went to the seminary to become a priest.
Years later, he left the priesthood and joined a multi-level marketing and become a lecturer for the company for the island of Mindanao. I also joined the company and enjoyed listening to his interesting lectures.
One day I approached Father Guillermo and told him it was my turn to share something with him. He agreed and then I started to discuss the Bible with him, after which, he asked a lot of questions.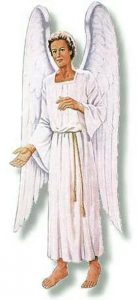 I was just a beginner layman at that time and wasn't able to answer everything. For fear that he would ask me more, I avoided him the next few days.
Three weeks later, I learned that Father Guillermo was assigned to work in Luzon, particularly in Manila. While in Manila, the Bible topics that I discussed with Father Guillermo troubled him; it made him want to know more about the Bible. After staying in Luzon for three and a half years, he went back to Mindanao and looked me up. We met at General Santos City and I continued giving him Bible studies for several weeks.
But something was different this time. The priest didn't ask any questions; he was taking it all in (the Bible lessons) with earnestness. After the Bible studies ended, he asked to be baptized. Though he felt sure of his decision, he prayed to God the night before his baptism, " LORD, if the Seventh Day Adventist is not the true church, then tonight while I sleep, let me die, but please don't let my soul burn in hell."
The following morning he was happy to be alive and went to the ocean for his baptism. The brethren gathered around to sing and pray as Father Guillermo and the minister went into the water. But one thing they noticed: big waves started to crash against Father Guillermo. The minister baptizing him asked the priest to kneel down in the shallow waters, but the big waves kept coming. Amazingly, after his baptism, the waves stopped and the sea became calm.
Later, I could no longer hold my curiosity; I just had to know something.
"Why is it that during our second Bible studies you did not ask any questions when in the beginning, over three years ago, you asked me a lot?" I asked Father Guillermo.
"Brother Casio, each time you came to give me Bible lessons, a man in "white" came with you….from the beginning to the end."
I finally understood why Father Guillermo always prepared snacks for two people every time I went to see him. I believe that an angel of God went with me. Likewise, many of my Bible students said they have seen a man in "white" accompanying me when I went to see them.
~PEDRO CASIO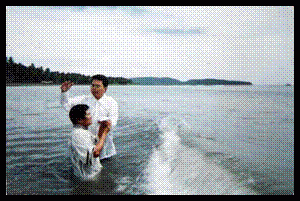 Father Guillermo being baptized