297 Baptized in Northern Mindanao Conference
By Fortunato Notarion & Robert Quibado, adopted ministers
We thank God for the success of our groundwork here in Cagayan de Oro City.
On May 5-20, we presented a Revelation Seminar in Gingoog City and more than 125 Bible students graduated. Praise the Lord for the 45 souls who accepted and were baptized.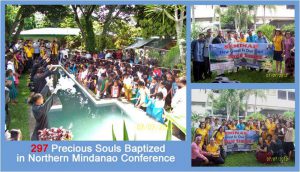 In the month of June, nine adopted ministers including myself, accepted the call of our NCMC president, Pastor Aner Tero, to do groundwork in Cagayan. July 7 was the culmination of the 1 week reaping Evangelistic Crusade lead by Bro. David Simms from Australia and sponsored by the Australian-Filipino brethren (in yellow shirts). Again, we had tremendous success because there were 297 precious souls who accepted Jesus and were added to the SDA Church and we praise the Lord!
We thank all of our sponsors for your support as we continue with our ministry here in the Philippines in preparing people for the soon coming of our Lord Jesus Christ our Savior.