By Leopold Balidiong – adopted minister (Negros Occidental Conference)
One mid-summer night in 1982, a baby boy wa
s born in a small barrio in Guimaras, the so-called "mango" capital of the Philippines. He was the eighth of eleven children of Leonila and Florencio Balidiong. He grew up in a non-Adventist home and a non-Adventist community. His parents worked in the rice fields and often they came home drunk. Every time they got drunk, they end up arguing until they fall asleep because of too much intoxication. That little boy was never taught how to pray. The first time he entered a Catholic Church was during the town fiesta when he was 14 years old. He never knew there was somebody called God. That young boy was me.
When I was a teenager, my siblings went to school while I worked in the farm with my father. I thought it was so unfair that they were studying in the city while I toiled under the sun just to augment our finances. My father and I often argued about little things. I believed he hated me so much, so I hated him just the same. He told me that I was good for nothing. He always compared me to my older brother. I then started to go with other "school drop-outs" in our place. I began to drink liquor, smoke cigarettes, and even indulged in marijuana. My father couldn't stop me and resorted to placing me in a rehabilitation center. One night I came home from a drinking spree with my friends. When I entered our house, I saw both of my parents were also drunk. We had a big fight and I left the house with a bolo knife. I went to the barrio to pick fights. I threw stones over the roof of every house that I passed. Fortunately, nobody got hurt.
The following week, our neighbor died. My friends and I attended the burial even though we were drunk. After the interment, I stayed behind. I sat on top of his grave. I looked upon my life and thought deeply about it. I wanted to go to school but my parents won't let me. They didn't trust me anymore. While the sun was about to set, tears rolled down my cheeks. What will happen to me now that I have finished high school? My deep thoughts were abruptly stopped by a tap on my shoulder. "Tong, ano plano mo sa kabuhi mo? Maeskwela ka college?"("Tong, what do you plan to do with your life? Are you going to continue your study in college?") My Adventist friend asked me. I answered, "Wala ko kabalo." ("I don't know.") He persuaded me to go with him to Central Philippine Adventist College (CPAC) where I could study while working. I decided to go with him the following day at three o' clock in the morning. My parents didn't know I was leaving. The only clothes I brought were the ones I was wearing. With one hundred pesos ($2) in my pocket, I risked everything just to find out what life has in store for me.
My life in CPAC was not a bed of roses. Instead, it was a bed of thorns. My friend introduced me to his friends and they gathered their old clothes so that I will have something to wear during my stay there. They helped me during the enrollment. When they asked me what course I wanted to take, I told them that I want to become a seaman. They all laughed because the school doesn't offer such a course. I said to them, "Bahala lang kamo da a." ("It's all up to you there.") They decided to enroll me in Agriculture. I worked full time for two years. I tried various kinds of work. I became a road construction worker, a maintenance department aid, an assistant dean at the boys' dormitory, a student guard, a cowboy and banana plantation worker. I worked hard under the scorching heat of the sun. I came to the point where I was about to give up, but the voice of my father saying that I am a useless son made me strong enough to go on.
My friends invited me to attend the Sa-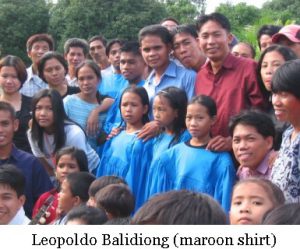 bbath services. I entered the auditorium where the worship was held for the first time. All the participants were speaking English and I couldn't understand a thing. I was so ashamed with how I looked. My clothes were old and the sandals I wore had mud all over. But nevertheless I found the warmth and the joy of the churchgoers. I made friends with some theology students and they gave me a Bible study. Eventually, I was baptized on August 26, 2001. After my baptism, I felt that God was calling me to work for Him. I shifted from agriculture to theology.
One day, I received a call from my mother: my father was in the hospital and if I wanted to see him before he died, I should go home right away. So I went home. I wanted to see my father and tell him that I have changed. When I arrived home, my father was already very weak. They were all surprised to see me – a changed man. They didn't hear me using profane words anymore. I talked to them about God and His love for us. I taught them songs, which I learned in CPAC. We started to say grace before each meal. I gathered my siblings and their families to kneel down and pray.
I returned to CPAC with joy that my family is happy about my new life. On June 2003, my family was brought to the feet of Jesus. I went on with my studies with the help of God. I have encountered a lot of obstacles in my journey through college but I have managed to hurdle them through His aid.
On March 18, 2007, I graduated with a Bachelors degree in Theology with a leadership award. As I was marching down the aisle during the graduation, memories of my life came flooding in. From the time when I ran away from home, to the time when I gathered bits of soap and detergent from the restroom of the dormitory so I could bathe and wash my clothes, to the time when I became the MOTTO (Ministers of Today and Tomorrow Organization) President and was voted by the student body to become the Student Government President. I could never find the exact words to express how thankful I am to the Lord who brought me out of my dark past. I worked as a volunteer church pastor in Sagay, Seventh-Day Adventist Church. I prayed earnestly that God would send me a kindhearted person who would support me while I worked. And God answered my prayers. He sent me a sponsor named Vanoy Smith. I know there are a lot of trials ahead. Yet, I do not fear. God has sustained me for 25 years and He is still the same God who will sustain me for the rest of my life. There are some points in our lives when we think we are hopeless, but there is one thing I am very sure of–God will always make a way.