Very early one morning I received bad news that my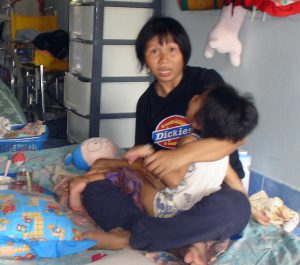 neighbor's only son (Noykin) was in the hospital. Although they
are not Christians (but spirit's worshipers), I felt really bad
so I asked the brethren who brought the news to join me in
prayer. I asked God for a miracle for the boy and to use me as
His instrument to share Jesus to others.
A week ago our church member's son Sothefong who got
encephalitis had just been released from the hospital after two
weeks spending in ICU and in the regular patient's room. It was a
happy weariness on my part, going back and forth from the village
to the hospital comforting, encouraging and praying with them
beside Sothefong's sickbed. But I thanked God that from the
hospital, they returned home with renewed faith. They are now
faithfully attending our nightly worship. They believe that God
really gave Sothefong his miracle. His mother shared her
incredible testimony about the quick recovery of their son,
saying it was an answer to our prayers.
Unknowingly, a Buddhist mother, whose daughter has
severe pneumonia (one of the ten children in ICU) was observing
us as we bowed in prayer around Sothefong's bed twice a day. What
she saw sparked her curiosity. The day before Sothefong's release
from the hospital, his mother couldn't contain her excitement and
told the others in the ward how God answered our prayers for
Sothefong. The Buddhist mother has no way to doubt, for she saw
how Sothefong struggled for many days.
Seeing Sothefong's fast recovery, I promised the
family that we will not stop praying even though I had to go back
to my usual job in the village. Two days passed, the family
returned home happy with Sothefong. One day, when I visited the
healed Sothefong, his mother was giving a miraculous testimony to
a neighbor who visited them that afternoon. Pausing a moment, she
handed me a note from the Buddhist mother (with doctor findings
of severe pneumonia) asking for prayers.
"Her daughter is so sick and she needs our prayer, "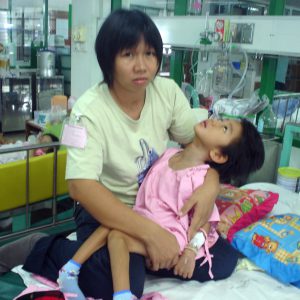 Sothefong's mother exclaimed. While pointing her finger to the
patient's name Titipon on the paper she handed and so we included
the girl in our evening prayer.
Unexpectedly, when I went back to the hospital a week
later, because of our co-villager's only son (Noykin), the
Buddhist mother saw me.
"Koon ajarn Jhun chai mai ka?" (Are you pastor Jhun?)
She asked me with her sad eyes. "Atitan pen lok ying kongchan dai
mai kap?" (Can you pray for my daughter?)
"Dai kap," (sure why not) I nodded. Wow! A Buddhist
having faith on the Christian's God! I silently said to myself.
Then, she guided me to her daughter's sickbed. Those
who were there, the patients' attendants, my co-villagers and the
nurses where greatly surprised when she bowed down in front of me
and hearing her begging me to go to her daughter's sickbed to
pray. (Bowing down is the Buddhist way of approaching the monk).
To make sure I asked her daughter's name. She said
"Titipon." Then I asked her to bow with me in prayer, asking God
to reward the faith of the Buddhist mother by healing her
daughter. "Please come to visit me in our house," she said after
the prayer. Then she wrote her name, address and phone number on
the paper and drew a brief sketch to her house.
"I've been looking for you more than a week now," she
said. "Karona choway atitan noy." (Please help me to pray for my
daughter) she begged again.
Looking around, I saw lots of attendants (usually
mothers) hoping for the healing deliverance of their children.
Their eyes seemed to be asking, Can you pray for us too? So I
tried to smile at them to make Christianity more saleable. And
so another mother came to me and offered me a chair. And so I
took the opportunity to know them . "Too ni, Prajao song rujak
kongkoon. Kao song rujak yo tinai kongkoon lae rujak panha
kongkoon," (God knows you! He knows where you are and what your
problem is right now) I said. "And so I will pray for your
daughter" I added.
Many among the one billion Buddhist people today are
in the midst of pain and struggle. Hopelessness and desperation
fill their lives. But I thank God that He has a thousand ways to
give them hope through Jesus Christ. And I'm happy that God
graciously allows me to be around to minister for Him. What a
privilege to pray for them!
"Then Jesus answered, "Woman, you have great faith! Your request
is granted." And her daughter was healed from that very hour."
Matthew 15:28 NIV
A month later, I visited the Buddhist mother and
her daughter in their apartment. The Buddhist mother was very
happy to see me. Titipon no longer has pneumonia. I wish to have
the time to give her Bible studies soon. I wish there are more
ministers here to share God's message of salvation.
Alejandro Cardiente is a Filipino SDA minister in Nan Province of
Thailand under the Adopt a Minister Program.