Reva Lachica Moore
We sat on a couch in the lobby waiting to see a very important man-the owner of a billion dollar ompany. On opposite walls hung oil paintings of this man, his brother and his parents. Every few minutes, someone would pass through the lobby and we all wondered if he could be our man. The secretary came out to say that he was running late.
J.R., Grace, and I had speculated that being the owner of a billion dollar company, he must be wearing a dark suit, and would be walking in with bodyguards. I wore a smile on my face in case the next man to come in was he.
A few men in suits passed by, but none of them looked toward our direction. After a while, I started to read a book I had picked up from the coffee table, when unexpectedly, a man in a white turtleneck shirt walked in, swiped his badge, and walked toward us.
"I'm Ellsworth McKee, how are you all? Please follow me." Mr. McKee had a smile on his face.
We all shook his hand, quite amazed that this unassuming man was Mr. Ellsworth McKee. Not in a suit. And no bodyguards.
Once we were seated inside the conference room, Mr. McKee made us feel quite welcome. We told him that we were just passing through and thought of introducing ourselves since we had sent him information about our organization a few months earlier.
We thanked him for seeing us on such short notice.
He asked many questions, which we excitedly answered. We figured a busy man like him may not have found time to read the flyers we had sent him. He showed concern upon hearing our many stories, and promised to get back with us soon.
Since Mr. McKee was very friendly, we decided to ask him questions.
"How many eighteen-wheelers do you have here, Mr. Ellsworth?" I asked. "I see one go by every few minutes." His answer was 200, but he wasn't sure.
"How many employees do you have?" He answered that they have 6,500 employees. Besides the expansive company in Collegedale, his family owns two more businesses in two other states. Mr. McKee had such a warm smile, we felt at ease.
"How did McKee Foods get started?" I asked. So, Mr. McKee told his story (he smiled each time he spoke) : "McKee Foods started 75 years ago with my parents, O.D. and Ruth McKee. After a year of selling nickel cakes from a 1928 Whippet, my parents bought a small bakery and gradually equipped it with unique, automated equipment designed by my father. Today the McKee sons and grandchildren manage the company."
"What's the secret to your success?" I asked (I was the one always asking).
"Our success is largely the result of two main factors-good people and God's blessings," Mr. Ellsworth said. "Our family has always supported our church through tithing. It's only natural for that to extend to our business life as well. Tithing encourages us to be good stewards of our finances and to
have a planned systematic approach to giving. God has blessed our family and this company. He has allowed us to grow and prosper.
Giving back to the community is one small way to return some of God's generosity. It's the right thing to do."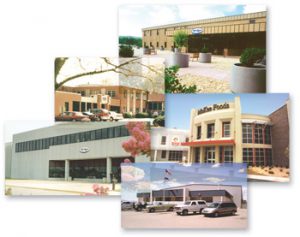 We listened some more. Mr. Ellsworth talked about the tough times when his family had to live in the back of the bakery, with only a curtain as a divider. And when he had to quit college to help run the business. And the tough years when his parents didn't give the full 10% tithe and the company struggled and didn't make any profit for several years. Then Ellsworth, as a young man, decided to try God through giving tithes and donations.
"I decided to give tithe before tax. I made big pledges for our church building; my dad couldn't understand why I gave more than he, and I was just his worker. Before long, God started blessing us."
"Did your parents live to see all of these buildings and your success?" I asked.
"Yes, they lived up into their 90's and saw all of these," Mr. Ellsworth said. "One other thing, this whole company shuts down at 3:00 p.m. every Friday afternoon to get ready for Sabbath. Even our drivers are given plenty of time to make their deliveries before Friday sundown. Operations open back up after Sabbath sunset."
This year McKee Foods, makers of Little Debbie Snack Cakes, is one of Tennessee's top employers (the top twenty organization to work for in Tennessee). This company has high standards of excellence and a strong commitment to employees.
Surely the Holy scriptures are true when they say, "Bring ye all the tithes into the storehouse, that there may be food in my house, and try me now in this, says the Lord of hosts, if I will not OPEN for you the windows of heaven and POUR OUT for you such a blessing that there will not be room enough to receive
it." Malachi 3: 10.
And Isaiah 58:13, 14 says, "If you turn your foot away from the Sabbath, from doing your pleasure on my holy day, and call the Sabbath a delight..And I will cause you to ride on the high hills of the earth and feed you the heritage of Jacob, your father."