Reva Lachica Moore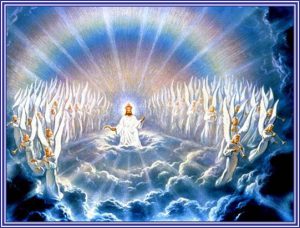 Have you ever hugged a taxi driver? Now you're probably asking – Who would hug a taxi driver unless you have a good reason why?
Two weeks ago while Mary Grace and I were in Atlanta attending the General Conference Session, we took a taxi from our hotel to the Georgia World Congress Center everyday. Outside the Renaissance Hotel, several taxis waited so we did not have to make a call. We knew to always take the first taxi in line.
However, on the morning of our return trip back to the airport, we received a call from our friend, Cenes St. Hilaire, a Haitian who lives in Atlanta. Cenes had called us three mornings in a row and offered to give us free transportation, but we decided to sleep late instead. Finally on our last day, we told Cenes to meet us outside the hotel. This was our first time ever to meet Cenes in person. He told us to look for a man in a blue shirt.
From the revolving glass door I could see Cenes. As I walked toward him with Mary Grace behind me, I heard the driver of the first taxi holler, "C'mon man, I'm first in line here! You cannot just do that!"
I ignored the man and continued to walk toward Cenes, for I was excited to meet him. Cenes had parked his taxi behind the first cab.
The first taxi driver hollered again, "Did you call him? Do you know him?" By this time, he must have figured that Cenes is our friend after seeing me give Cenes a hug.
We came to know Cenes three years ago when he called us for the first time. He had heard about "Adopt a Minister International" and wanted to sponsor two of our ministers in the Philippines. So for three years, we had talked with Cenes on the phone but have never met him in person.
So finally the opportunity came. It felt like we've known each other for a long, long time. We hugged, we laughed, we chatted, we posed for pictures. At the airport, many saw me hug the Haitian taxi driver and probably wondered why.
At the Georgia World Congress Center, I couldn't describe my emotions upon seeing and meeting thousands of people. Since many people recognized Mary Grace – the one-handed pianist, they would stop and chat with her. People came from all over the world: Lebanon, Chad, Nicaragua, Montserrat, Martinique, San Salvador, Ethiopia, India, Guatemala, Australia, Spain, Romania, Brazil, South Africa, India, the Philippines, United Kingdom, Ghana and Nigeria..from over 200 countries.
People came from all walks of life. We met Andrew Harewood, chaplain for the Pentagon, Siegfried and Evelyn Neuendorff, author of Make Me a Blessing and missionaries to the Campa Indians of the Peruvian jungles, and many others.
I saw old friends and classmates I have not seen in a long time. I met for the first time many who had supported our ministry for years. There was so much hugging and laughter.
It was like seeing a sea of people – celebrating their uniqueness and togetherness. Their faces showed indescribable excitement unequalled by anything – having the look of a 'blessed hope.' They have one purpose, one aspiration, one goal – that it: to go to heaven to live with Jesus. It's wonderful that besides this particular church group, there are many other church groups out there, also with the same goal.
If the excitement of meeting a family or friend here on this earth is so thrilling, I can just imagine how awesome the Grand Reunion in Heaven will be. Countless of people to meet – many for the first time. So many to hug. Never-ending excitement, joy, laughter, smiles as we live with Jesus throughout eternity! I hope to see all my loved ones there!
John 14: 1 – 3: "Let not your heart be troubled; you believe in God, believe also in Me. In My Father's house are many mansions; if it were not so, I would have told you. I go to prepare a place for you. And if I go and prepare a place for you, I will come again and receive you to Myself; that where I am, there you may be also."
1 Corinthians 2:9: But as it is written: "Eye has not seen, nor ear heard, nor have entered into the heart of man the things which God has prepared for those who love Him."