Ordained Finally after Many Years of Waiting – To God be the glory!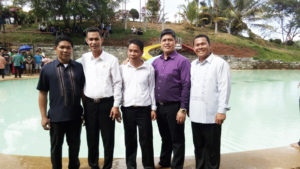 Left to right: Pastor Glenn Dhon Arriesgado, Pastor Julie Esteban, Pastor Jimmy Sabandal, Pastor Jonathan Maslog and Pastor Ali Love Apale
Once a minister is ordained, he can perform baptism.
In November 2000, when God showed me about the hundreds of "abandoned babies" in my dream – He showed me the sad fate of the hundreds of unemployed theology graduates in the Philippines. The "woman in white" told me to take care of the babies, and then she left. These newly "ordained" pastors are 5 of the "babies" in my dream.
Since 19 years ago, we have had hundreds of adopted theology graduates under Adopt a Minister International who are now employed by local missions. Yet, many of them are still waiting for "ordination." The majority have to wait around 20 years before they become "ordained" ministers. Many had been ordained. Here are letters from them.
Pastor Jimmy Sabandal
Psalm 37:4 "Take delight in the Lord, and He will give you the desires of your heart." (NIV) This Bible verse inspired me while I waited for a long, long time for my desire to be ordained as a minister of the gospel (though I felt it as "self-seeking" if someone would know that this was my greatest desire).
I was a lay worker after I graduated from theology last March of 1995. I worked in different places in Visayas, receiving a small amount just enough for my food. In the Year 2000, my wife and I heard about Adopt a minister International, but we didn't know how to contact its founder. In 2007, my wife went to an internet cafe to search for the said organization. (At that time, she didn't know how to use the internet) but the owner of the internet helped her. After almost 2 hours of searching and with so much prayer, she found it. We sent e-mail to Ma'am Reva and right away, she accepted us and assigned us to her hometown church in Batiano, Odiongan, Romblon. I worked as an adopted minister from 2007 to 2013. Mommy Reva, your February visit to Davao City and being our speaker was a miracle. God is on time, for after 23 years of waiting, I was ordained as Church Pastor a few weeks later. I thank God for granting my desire last April 20, 2019 at Oliverio Hall in Mountain View College. I owe everything to Adopt a Minister International and above all to God who used you all as instruments of His love. How can I repay you for your generosity to me, for I had asked the Lord this one thing: "Please ordain me before I will retire."? Praise God for the generous sponsors who sacrificed for the ministry. May God shower His blessings to you all. You are all in my prayers. To God be the glory! ~Pastor Jimmy Sabandal
Pastor Julie Esteban
Dearest Mom Reva and Dad JR,
Peace and blessings! Since my graduation in 2000 at Mountain View College, God prepared me for almost 16 years until I was accommodated at the Davao Mission of SDA on January 16, 2016. Thank Jesus, for I was ordained last April 20, 2019 during the Congress at Mountain View College. Praise be to God, Mom and Dad! Thank you so much for making me part of the ministry for a long, long time and for your great help to my family. I will forever be grateful to my sponsor, Ron Mitchell and family and most of all to Jesus. Please continue to pray for me and the ministry and my entire family! With our prayers ~ Pastor Julie Esteban & family
Pastor Glenn Dhon Arriesgado
No words can express how thankful I am because of Adopt a Minister International. Now that I am ordained in the ministry, what I could contribute to your ministry is just to pray that God will give you more success for God's glory and that you all will have good health always. Ma'am, only Jesus can repay you all for your perpetual support for His cause. Again, we (my family and I) are forever thankful that once in our life, I was your adopted minister. Thank you very much. Praise the Lord! ~ Pastor Glenn Dhon Arriesgado
Our Appeal:
Our funds are so low and we do not have enough for monthly stipends. Please be a part of Adopt a Minister International. Every dollar donation adds up. We hope to continue our volunteer work until Jesus comes to take us home.
Website: https://www.a-a-m.org
Our e-mail address: adoptaminister@bellsouth.net
Our mailing address:
Adopt a Minister International
18027 Glen Park Dr
Baton Rouge, LA 70817
Thanks so much to all our AMI sponsors! God bless you all!
~Reva, JR and Mary Grace