Mass Baptisms and Small Baptisms reported by adopted ministers
A TOTAL of 2,216 precious souls were baptized, reported by 7 adopted ministers. These are just some of the baptism reports for February 2013.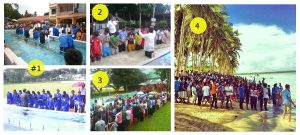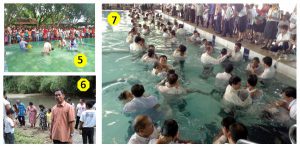 (1). By Pastor Ranel Fortrich (adopted minister, Davao Mission). On March 2, twenty two (22) precious souls were baptized at South Philippine Adventist College (SPAC). On March 16, another fifty (50) precious souls accepted Jesus as their personal savior through baptism held in front of South Philippine Adventist College. Five Pastors officiated the baptism together with the Davao Mission President, Pastor Jerry Patalinghug. Thank you very much to my sponsor for your continued support. God bless you all.
(2). By Pastor Robert Guelos (adopted minister, Southern Mindanao Mission). My cottage meeting last March 3- 9 was very successful through God's grace. The result: 11 precious souls accepted Christ as their Savior through baptism. There are still many who have not decided so I am doing 'follow up' and praying that many more will accept Jesus before the meeting ends on March 30. Thanks so much to our sponsors for you untiring support and prayers.
(3). By Pastor Elmer Arsula (adopted minister, Negors Occidental Conference). Last month I held the crusade and by God's grace, 20 souls accepted Christ as their personal Savior. We adopted ministers of NOC held 3 evangelistic crusades last year in Silay, Bago, and Pinaguinpinan Districts that resulted to almost 200 souls. I hope that God will supply our needs in spite of circumstances. God bless you mommy and more power.
(4). By Pastor Jessril Gallo (adopted minister, Northeastern Mindanao Mission). Two big evangelistic meetings were held in Siargao District. The first meeting held on January 11-26 with Elder Carl Joy as the speaker resulted to 140 precious souls baptized (20 of them were my Bible students). The second baptism held on March 2-9 with Pastor Torres, president of Guam Micronesian Mission and who brought young adults (a group of students from Wiemar Academy) who were also the speakers reaped over 600 precious souls. Part of this evangelistic meeting was a FREE medical clinic given by Adventist physicians. Twenty two (22) of the 600 were my Bible students. Thank you so much for your prayer and for supporting God's precious work. God bless the AMI and our beloved sponsors.
(5). By Darlene Sabandal (AMI Coordinator, Davao Mission). Praise God for the success of the evangelistic crusade of Pastor Jerry Patalinghug DM President and Dr. Benoni Llanto, SPUC Stewardship director held in Kapalong, Davao del Norte last Feb.24 to March 9. Four adopted ministers assisted the crusades, they are Dolores Lozada, Alfredo Moreno, Marvin Maata and Denison Leonado. During the last night of the crusade, while Pastor Patalinghug was making the appeal, there was a total black out. We felt as if Satan was not happy at all. We thought Pastor Patalinghug was going to stop his sermon because it was so dark and no more sound system in the gymnasium. However, Pastor Patalinghug used a small lamp and continued his appeal. We were amazed that his voice was loud and clear. As he was ending his appeal, the electricity came back. The following day was Sabbath and it was baptism time. There were 84 precious souls who were baptized in a large swimming pool. During the baptism, heavy rain came but the baptism continued.
(6). By Pastor Rodjen Anggolin (adopted minister, Northern Mindanao Conference). We have baptized 15 souls as a result of our Revelation Seminar held at Benigwayan, Alubujid, Misamis Oriental. Kindly include the new converts in your prayers. God bless and more power
(7). Shared by Pastor Seth Magas (adopted minister, Central Luzon Conference): 1,074 precious souls baptized and 58 of them came from my district. More than 10,000 youth, pastors and youth leaders flocked to the Cuneta Astrodome in Pasay City, Manila on February 23 for a one-day worship program and mass baptism. The event capped the Power of One (P1) Youth Summit, a week-long youth evangelism series led by Pastor Jonatan Tejel, world church pathfinder director, and Dr. Hiskia Missah, associate youth director for the world church. The nightly revival meetings were held in two locations: Pasay English Church in the capital city of Manila with Tejel, and Santa Rosa, Laguna (south-central Luzon province) with Missah.
Preparation for this dual-campaign began in February 2012 with a challenge for Filipino youth to make friends with non-Adventist youth as the first step in evangelism. During the second phase of the program, Adventist youth invited their new friends to the Voice of Youth spiritual retreat where some accepted Jesus as their personal Savior at the end of the year. Both Adventist and non-Adventist friends were encouraged to then attend the Power of One series. As a result of the enthusiasm and efforts of these youth, a multitude of participants from across the Philippines joined the Saturday morning celebration and witnessed 1,074 people receive Christ into their lives through baptism in the afternoon.
From Reva Moore (Founder of Adopt a Minister International):
The Year 2013 is here and we have another big challenge to keep Adopt a Minister going. Of our 400+ adopted ministers, only around a hundred of them have sponsors. May the Lord bless you tremendously so you could adopt one or more of the adopted ministers who no longer have sponsors. Since we all cannot preach, let us help those who can. And 'thank you' to our sponsors for your faithful support of God's workers.