A Total of 688 Young People who attended Evangelism Camp in 5 places accepted Jesus Through Baptism
By Pastor Joseph Vicente (adopted minister of Northeastern Mindanao Mission)
Note: A TOTAL of 688 young people were baptized as a result of Evangelism Camp Meetings held in 5 different places in the Northeastern Mindanao Mission territory.
August and September were the busiest months for me and for the young people of Baan SDA Church. We traveled around NEMM conducting Trainings and Workshops for Friendship Camp scheduled for October during semestral break.
We trained our young people in five different areas to share their faith to their friends, relatives and neighbors.
I preached every Sabbath encouraging the young people to get involved in witnessing.
On Sabbath afternoons, I trained them on how to give Bible studies, how to do "follow-ups" after the Bible studies, and how to help non-SDA participants to decide and accept Jesus Christ.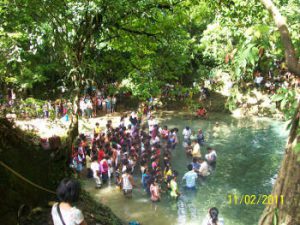 We had simultaneous evangelistic camp meetings in: Bolo-bolo Camp, Bonbon Camp, Tinuy-an falls Camp, Hubgan Camp, and Talacogon Camp.
Praise the Lord, for after two months of working with the Baan Youth in the five different places of Friendship Camping, we reaped the fruits of our labor.
The harvest is truly great! The Holy Spirit came and in the five venues of the Friendship Camp Meetings, we were able to reap a TOTAL of six hundred eighty eight (688) baptisms last October 29.
It's so amazing on how God touched the young people through our humble work. My co-workers and I had consecrated our hearts to Him and we saw such wondrous results that we have never seen before.
E. G. White said: "With such an army of workers as our youth, rightly trained, might furnish, how soon the message of a crucified, risen, and soon-coming Saviour might be carried to the whole world! How soon might the end come–the end of suffering and sorrow and sin! Our hardship is changed into joy to see the young people accept Christ as their personal Savior and leave behind their old selves – the drugs, alcohol, smoking, vices, food not in accordance with the will of God, and accept His Lordship in their lives. We saw a total change in every youth!
I hope that you will help us pray for the newly baptized as we nurture them, that God will fill them with His Holy Spirit to guide and give power to them in all trials that they will soon face and that God will supply all their needs.