We wanted to build Rolando a house, but built a coffin instead.
Praise God, we finished our evangelistic crusade and 327 precious souls were baptized in Zamboanga Peninsula Mission on March 14, 2020. The following day, March 15, the President of the Philippines declared a total LOCKDOWN of the whole country. ~Report by Pastor Nehlu Torres.
To God be the glory. We are nearing home! Let the gospel of the kingdom be preached into all places. Let us always claim Gods promises. God bless everyone.
About the Philippines: The Philippines is made up of 7,641 islands, but only around 2,000 of the islands are inhabited. If you put the Philippine islands together, it is the size of ARIZONA. The population of the Philippines is around 100 million.
Matabas Island is a very tiny dot of an island near the mainland of Negros Occidental. This island is so small, I was able to find it (accidentally) through Google Maps. Its size is equivalent to 4 city blocks only. Yet, 154 households (around 800 people, including children) live on this island. There is NO running water and NO electricity there. The people depend on RAINWATER and SEA WATER only. People are able to buy drinking water that comes from the mainland. The Philippines gets hit by around 20 typhoons each year. Matabas Island was totally devastated by Typhoon Yolanda in 2013.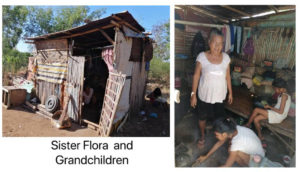 Since we now have the building materials, we are going to build Sis. Flora and granddaughter a house instead. Three of Flora's granddaughters were baptized last November 2019, too, and Flora will be baptized very soon. If you wish to send help to build Sis. Flora her house, please do. Thanks so much and God bless, ~Reva Moore
**Adopt a Minister International website: https://www.a-a-m.org**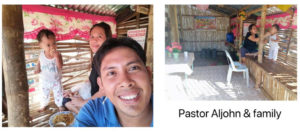 Pastor Aljohn Tanjusay, adopted minister, has been working in the Matabas Island since June 2018. He was assigned in other small islands before this date.
Matthew 24:14 – And this gospel of the kingdom shall be preached in all the world for a witness unto all nations; and then shall the end come