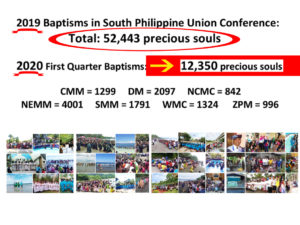 Thousands Accepted JESUS CHRIST through Baptism
During this pandemic, our adopted ministers in the Philippines are staying at home starting March 15 up to the present time because of the Philippine president's quarantine orders, which means very few baptisms in the past 2 months.
But, I wish to share the BAPTISMS of 2019 and the first quarter of 2020 (just in Southern Philippines). This number should be higher because the baptisms in Northern and Central Philippines are not included here.
In 2018, there were over 51,000 baptisms also in Southern Philippines, and according to Pastor Roger Caderma (President of South Philippines Union Conference), half of this number is the result of the work of our adopted ministers. To GOD be the GLORY! We have around 200 adopted ministers in Southern Philippines.
For the month of April, there were only109 baptisms due to the lockdown. But we are praying for the virus to soon be gone and the work to share Jesus will continue.
Luke 10: 2 "Then He said to them, "The harvest truly is great, but the laborers are few; therefore pray the Lord of the harvest to send out laborers into His harvest."
Please be a part in the sharing of the "good news." Every dollar donation goes to God's work. We will give you a tax-deductible receipt.
Adopt a Minister International website: https://www.a-a-m.org
Thank you for your faithful support of God's ministry. You all are in our daily prayers.
God bless,
Reva, JR & Mary Grace