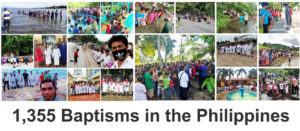 Adopt a Minister International – "Send Labourers Into His Harvest"
(https://www.a-a-m.org)
On March 16, 2020, the Philippine President announced strict home quarantine measures for the people in the Philippines, shut down transport networks, and ordered businesses to close or operate remotely to control the spread of the corona virus.
There are 7,100 islands in the Philippines and during the lockdown, people are not allowed to travel from one island to another. Only ships that carry essential goods are able to travel, but without regular passengers.
The home quarantine included: the "ban" on public gatherings, social distancing, the shutting of malls and a halt to non-essential movements in and out of the city. All of these helped lessen the Philippine covid deaths to only 1,200+ (in a population of almost 109 million) compared to the 127,000 covid deaths in the US with 330 million population.
For almost 4 months now, the head of a family, or those with jobs had to obtain a "pass" to go through the main roads. We advised our adopted ministers to follow the directives. They gave Bible studies in their neighborhoods. The baptisms are not as many as we normally have, but praise God, they continue to share Jesus and when there is a time and place to baptize, they held baptisms.
NOTE: We thank all of our sponsors for your prayers and financial support for Adopt a Minister International and Help the Needy, Inc. God bless you all! ~Reva, JR &Mary Grace
Here are those who sent baptism reports and pictures starting March: Maribel=15, Melody=26, Robert Baldoza=6, Lester=20, Larry Navarro=6, Shulameth=5, Venerando=4, Junil doc fray=53, Leah Agdalapiz=4, Apolinaro Hermocillo=2, Nehru Torres=163, Jeffrey Palma=12, John Hero=15, Bart Barrientos=30, Nelson Peroy=13, Russel Baterna=7, Jason Geollegue=11, NEMM=88 Mar, Edwin Gamboa=49, Faith Bayona=17, Arman Andrade=30, Nemm=87 May June, WMC=360, NCMC=53, Faith Bayona=9, SMM=113, WMC=140. Total 1,355 (The bigger numbers of baptisms were held early part of March and before lockdown on March 16.)