"Rolled Up Like a Scroll" by Reva Lachica Moore
We are thankful to our sponsors for your dedication in helping the adopted ministers continue to work for our Lord through your generous donations and prayers. – God bless, Reva & J.R. & Mary Grace
Does God talk to us in dreams? Yes, He sometimes does. During the Bible times, God communicated to some people through dreams. There are many stories about how God warned or foretold happenings through dreams. We are also cautioned to be sure a dream is from the Lord, for the enemy can also give dreams. Anything that contradicts the Holy Scriptures is not from God.
Our God is merciful and to someone who might become lost but deep inside may yearn for His forgiveness, or if the person is being prayed for, God can make something known through a dream.
I want to share the letters of two young people (adopted ministers today) who had almost similar dreams about the second coming of Jesus Christ, where the heavens were rolled up like a scroll.
Peter is a theology graduate who couldn't get permanent employment even after waiting for many years. Having a family to support, he tried finding other jobs, only to write me later that he needed my help and wanted to continue working for Jesus, in spite of low stipend.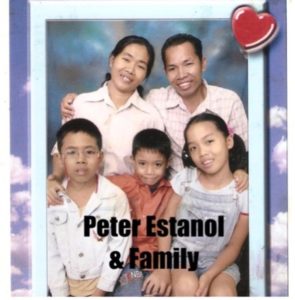 Peter's dream…One night I had a dream where I went outside and looking up, I saw a cloud the size of a small hand. Quickly, the cloud became big. In it I saw Jesus together with His angels coming to earth. I have never seen such a splendid and beautiful scene. I had expected to be caught up to heaven but suddenly, like a scroll, the heavens were rolled up and the scene was gone! I wept so much because I was left behind. Ma'am, I want to continue my work for Jesus.
(Note: Peter Estanol is still under Adopt a Minister Int'l nineteen years later with no hope of employment from the local mission.)
1 Thess. 4:17…"After that, we who are still alive and are left will be caught up together with them in the clouds to meet the Lord in the air. And so, we will be with the Lord forever." 
Archie Pedrieta sent me his story:
I am Archie from Negros Oriental, taking up Bachelor of Theology at Central Philippine Adventist College (CPAC), and the second child among five. My father is a jeepney driver and my mother had passed away 2 years ago because of breast cancer.
One day, a minister asked me, "Do you have any plan to go to college?" I told him it was my desire, but we didn't have the money. I needed to find a job to help my family. He told me to ask God for help, which I did. Before long, I was on my way to CPAC to be a working student.
I worked in the farm at the campus. For one semester, I diligently did my work: planting rice and sugarcane and carrying sacks of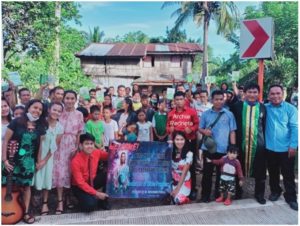 chicken manure fertilizer. However, the long, arduous hours made me very sick. I wasn't able to walk or stand for a week. That agonizing experience lasted for a month. I got very discouraged. I no longer wanted to finish college. I prayed but God seemed so far away. I went home in tears and decided to never go back to CPAC again.
Once home, my mother kept encouraging me to keep going, for I still have a big opportunity to go to CPAC again. But I didn't want to listen. I left the church and soon, I got involved in doing worldly things. But in spite of my foolishness, my mother continued to pray for me. And Jesus never failed to show His merciful love to me, no matter how bad I was.
Every midnight, my mother would kneel down beside me whether I was drunk or sober. She prayed long, whole-hearted prayers for me. Every night, my friends and I did foolish things at a waiting shed by the highway. One night, I went home late again. As I slowly opened the door, thinking everyone was asleep, I saw someone sitting on the stairs. It was my mother. She couldn't sleep knowing that her family was not complete. She was crying. I ignored her, but surprisingly, my mother punched me on my head! It was a strong punch; my head hit the wall. I went to bed acting as if nothing had happened. Later, my mother was kneeling on the side of my bed praying for me.
That night I had a dream about the second coming of Jesus. I saw soldiers and armored cars in a fierce battle and the place was badly destroyed. Then I saw a wonderful scene. The heaven suddenly opened like a scroll and there was a very bright light in the open clouds. Then I saw my mother being lifted up to heaven with my siblings, including my father who was not a Seventh-Day Adventist at that time. He was a slave of Satan who created trouble for my family, even wanting to kill my mother for being an SDA believer. But why was my Father going to heaven in my dream? The good thing was – all of them went up to heaven, but the worst thing was, I was left behind sitting in that waiting shed by the highway with my friends. I woke up with tears in my eyes and started to rethink my life. Why did my father also go to heaven?
That morning, I made a new decision to go back to CPAC to renew my forgotten commitment to my Lord Jesus Christ. A few months later, my father, a rebel before, was baptized and I thanked God, because his baptism helped me understand my dream. I decided to take Theology because of my gratitude to God. The sad part though, my Mother succumbed to breast cancer the following year, but I know I will see her in heaven someday. I have seen God's marvelous love and mercy, guiding me no matter how bad I was. I can't help but kneel down to worship Him as my God whose love endures forever!
(Note: I was able to help support Archie to theology college. Today, Archie is a district pastor under Negros Oriental Mission.)
Revelations 6:14 – 16… "The heavens receded like a scroll being rolled up, and every mountain and island was removed from its place. Then the kings of the earth, the princes, the generals, the rich, the mighty. And everyone else, both slave and free, hid in caves and among the rocks of the mountains. They called to the mountains and the rocks, 'Fall on us and hide us from the face of Him who sits on the throne and from the wrath of the Lamb.'"